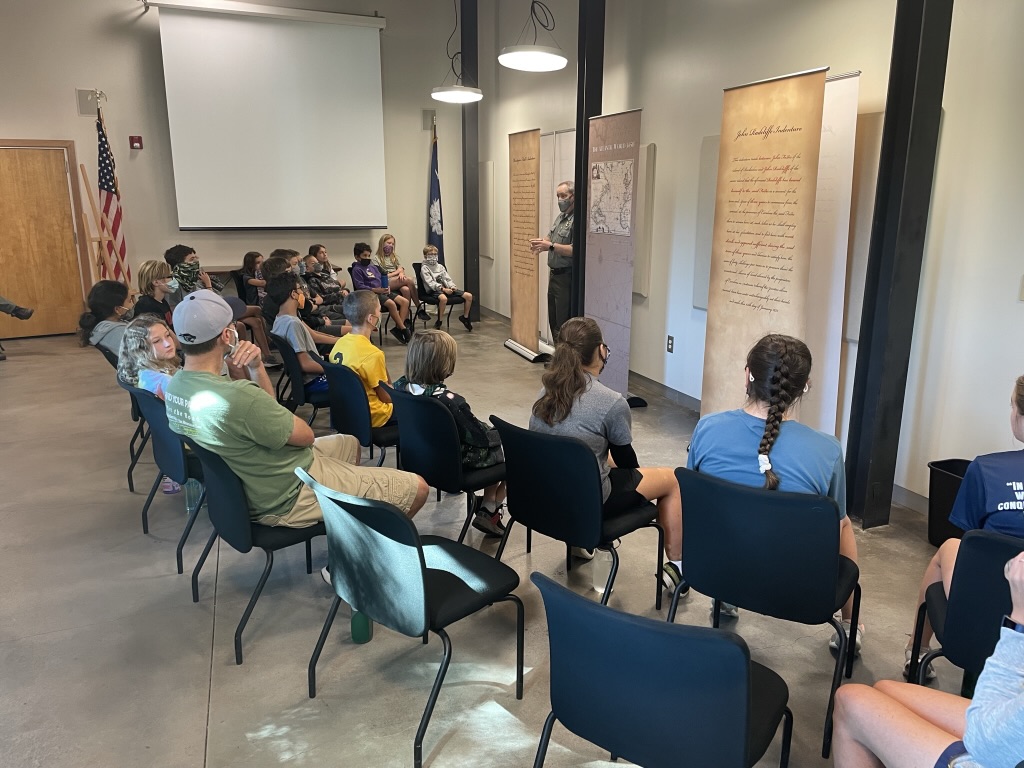 Frequently Asked Questions
Questions or more information?
Phone: 803-791-9039 Email: holytrinityschoolsc@gmail.com
Why should I send my child to a small, one room, Christian day school?
If you want affordable, quality, private education for your child, you should send them to a small, one room Christian day school. If you feel that your child is getting "lost in the shuffle" of a large, one grade classroom and needs more one-on-one instruction time, you should send your child to a small, one room Christian day school. And most importantly, if you want an education that is grounded in God's Word and teaches sinners about God's love and plan of salvation, then you should send your child to a small, one room Christian day school!
What is the biggest difference between Holy Trinity and a public school?
The biggest difference between Holy Trinity Lutheran School and a public school is the fact that we teach about our Lord and Savior, Jesus Christ. Every day we begin school with a devotion followed by Bible History, Catechism, or a Hymnology class. We end each day with hymns and a closing prayer. We pray during the school day whether it is before a meal, or a special prayer for a specific reason. Simply put, the biggest difference between our school and a public school is the presence of God's Word in everything that is done.
What can Holy Trinity offer that a public school cannot?
Our school can teach all subjects from a Biblical perspective and is able to use God's Word as the ultimate source of truth and direction for instruction and discipline.
For example, when science is taught, we can use our faith in God and His Word to interpret the world around us. This is important when teaching the origins of the universe. Students at Holy Trinity will be taught that the world was created in 6 literal days, as God's Word tells us. They will also be shown that our world shows God's immense power and wisdom and yet, despite the many wonders of creation, God bestows His love and forgiveness on us.
In social studies, God's Word is used as the basis for discussion regarding world events, both past and present. It is wonderful to know that God is in control of world, and at Holy Trinity we can guide our students to view history through a Biblical perspective.
When it comes to classroom discipline, we have the best handbook there is for guiding our actions towards others. God's Word tells us to love others, be kind, and to forgive. Our students are taught to treat others with Christian love and respect. However, we are all sinners and disciplinary situations will happen during school. But the difference between Holy Trinity and a public school is that we have the blessing and privilege of sharing the Good News of forgiveness of sins with our students!
What kind of classes would my child receive?
All students at Holy Trinity receive instruction in core classes (Math, Science, Social Studies, Grammar/Composition, and Reading) as well as various electives (Typing, Music, Physical Education, Art, Bible History, Catechism, and Hymnology). We use a variety of trusted textbooks including both Christian and secular based publications. All textbooks used at Holy Trinity are carefully reviewed before they are implemented in the classroom.
What about extracurriculars?
Holy Trinity will strive to provide as many opportunities such as field trips and sports as we can for our students to participate in. Every other year we travel to Wisconsin for a Christian Church Organized Basketball tournament with other affiliate schools throughout the U.S..
Aren't private schools expensive?
Our congregation subsidizes a large percent of the costs of Holy Trinity Lutheran School. This significantly reduces the costs to students who are members of the church. Families who are not members also save considerably compared to other tuition based education in the area. Families who are not members are required to pay tuition as follows to be paid monthly or by semester:
$1500/yr Preschool $2400/yr Kindergarten $4000/yr 1st-8th Grade
A 25% discount would be applied to each additional child enrolled.
Will my child receive standardized testing?
All students 1st through 8th grade will receive standardized testing. We use the Iowa Test of Basic Skills, also known as the Iowa Assessments. These tests are used in many public schools around the country and are recognized as a valid test to measure student progression.
If my child attends Holy Trinity, will they be ready for high school?
Children who graduate from Holy Trinity will be prepared to enter high school. Often students from a one room school setting are ahead of their grade level and may already be performing high school level work before they finish eighth grade. Some of our own students go on to enroll in our affiliated private Lutheran High School in Eau Claire, WI where they continue to receive quality Christian education.
How does a one room, multi-grade classroom work?
A one room, multi grade classroom functions similarly to a one grade classroom, except instead of having, for example, one hour to teach math to one grade, we have one hour to teach math to three grades, or four grades. While this seems like a disadvantage at first, it is quite beneficial. For example, a typical one grade classroom may have thirty students. This means one teacher teaching math has one hour to make sure thirty students understand the math concept being taught. What happens if one student is struggling but the rest are ready to move on? That student who is struggling will continue to struggle. The teacher can't hold everyone back while he/she spends extra time with the struggling student. And the teacher can't let the struggling student move on with the rest of the class. At our school, students progress when they are ready. There is no need to keep plugging away at the math text book when they are struggling with a particular concept. We have the blessing of being able to teach our students where they are at academically, not where they are at according to grade/age. Instruction time is much more concentrated since the teacher only has fewer students per grade to instruct.
In a one room, multi-grade classroom it is not uncommon to see a 3rd grader reading at a 6th grade level or a 5th grader taking 6th grade math. And vice-versa, if a 4th grader is not ready for 4th grade math, we can teach 3rd grade or 2nd grade math. Children are taught what they are ready to be taught and challenged to the level they are ready to be challenged.
A one room, multi-grade classroom seems old fashioned. Are there advantages to putting my child in this particular classroom setting?
There are many advantages to a one room, multi-grade classroom.
Students receive more one on one instruction time than they would in a typical one grade classroom. Our student to teacher ratio is around 4:1! Think of Holy Trinity as full day tutoring for your child(ren)!
Students can be taught at their level. They progress and are challenged at levels they are ready for.
The same teacher teaches the same students for multiple years, allowing the teacher to understand and work with the students' personal learning styles. This leads to an increase in the quality of education given and received.
Younger children are able to learn from older children.
Students are given a greater sense of personal responsibility and held to a higher level of accountability.